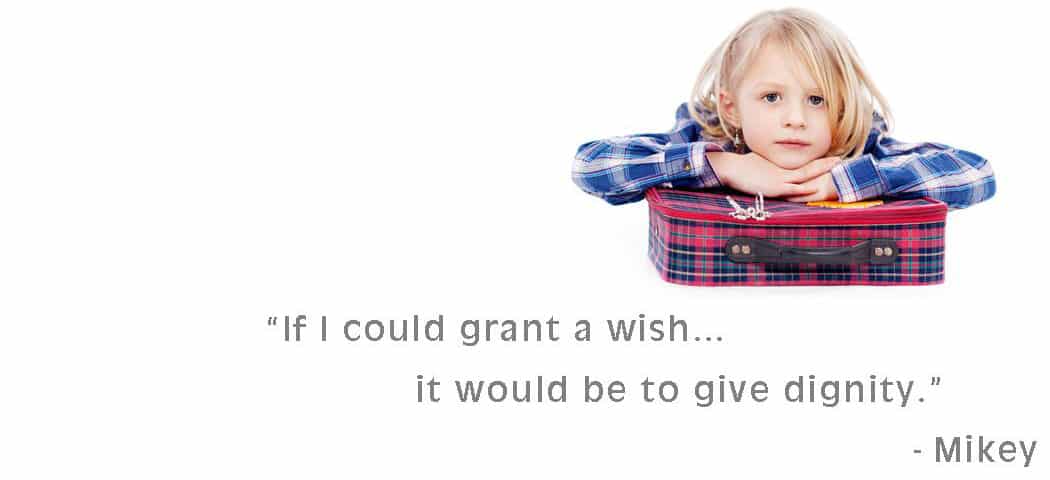 Most of us think of luggage as something to carry our "home away from home" clothes and various "must haves" when we go on vacation. Rarely is a foster child going to experience a vacation, much less pack in actual luggage. Too often they are carried from a dangerous situation and placed in a safe environment with only what they are wearing at the time. Koinonia helps provide foster children with clothes and basic needs as they adapt to living with caring strangers. Most foster children will live in at least three foster homes, and even as many as 20 throughout their childhood; and…quite frankly, they pack in big garbage sacks or boxes to move from placement to placement.
Watch the video "Hello. My Name is Michael." and see how luggage can make a difference.
On behalf of foster children, Rapid First Plumbing and Koinonia Family Services need your help to bring dignity to their lives by donating duffel bags or luggage.
WAYS TO DONATE
You can drop off or donate directly to Koinonia Family Services, or use one of the convenient locations listed below.
DROP OFF LOCATIONS

RAPID FIRST PLUMBING

5013 Roberts Ave, Suite B
McClellan, CA 95652
M – F 8:30 AM – 4:00 PM
(Drop off location for luggage only. No monetary donations can be accepted.)

LES SCHWAB TIRE CENTERS

4746 Madison Ave Sacramento
3554 Northgate Sacramento
7880 Walerga Antelope
2838 Sunrise Rancho Cordova
5501Florin Road Sacramento
9465 Madison Ave Orangevale
3606 Bradshaw Sacramento
631 Harbor Blvd West Sacramento
9095 Fairway Drive Roseville
5610 Pacific Street Rocklin
2547 Grass Valley Highway Auburn
1415 Broadway
750 E Bidwell St Folsom
8124 Auburn Blvd Citrus Heights
2625 Fulton Ave Sacramento
8301 Elk Grove Florin Rd Sacramento
8410 Elk Grove Blvd Elk Grove
65 W Main St Woodl and
(Drop off location for luggage only. No monetary donations can be accepted.)
,
,
KOINONIA FAMILY SERVICES
Koinonia Family Services
3731 Magnolia St
Loomis, CA 95650,
M – F 8:00 AM – 5:00 PM
Closed for lunch noon to 1:00 PM daily


Click here to donate and use keyword "Mikey's Luggage" in comments.
Proceeds will go directly to purchase luggage for the kids.